Sure, you have likely done yoga at your house.  Probably have mastered boat pose.  But have you done boat pose on a houseboat?
It has been a dream of mine ever since visiting the canals and embracing the house boat culture of Amsterdam and  Sausalito, CA to combine houseboating and paddleboarding.  This summer, I did just that.
Launching from the
Boomsite Public Landing
 just a few miles north of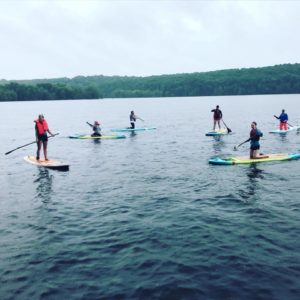 Stillwater, the public landing offers an easy entrance point to the waters of the
St. Croix River
.    Taking advantage of an early morning paddle will soon get you to understand why this sweet town is called Stillwater.  Something quite magical happens as you float southward, down the river on a paddleboard.  Paddling with the current, you will greet the Wisconsin coast on the East and obviously, Minnesota on the West.  Ecologically forward,  paddleboarding offer a blissful moment where you are allowed to not only see the sights but HEAR them.  Over this last season alone, I have seen more wildlife on the St. Croix than in my adventures in Costa Rica or Hawaii. Oh and the only emissions you will burn is your own calories.  From what I understand, the venture is about 700 calorie burn.
It is about a 2 mile paddle southbound to the docked 1977 Gibson Houseboat, "Poser".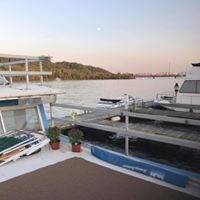 The Houseboat offers a floating rooftop studio.   Once aboard, yogis will experience a rock the boat flow as the currents of the St. Croix surround the vessel.    Going through a flow sequence, you can set your drishti (focus) on the view of the
new bridge and the old liftbridge construction
.  The Poser remains tethered in her dock during the rooftop yoga session and offers a safe and secure place to challenge your practice while she floats in the beauty of the St. Croix.
Typical Float Your Boat Session:

90 minutes Summer Sun Vinyasa on Water
45 minutes of paddle boarding from Boomsite Landing
 45 minutes of Sun Salutation on the House Boat
 Limited to 6