Meet our floating yogis who lead your on water studio!
I'm Kelli Carlson, and founder/owner of SUP-Poser.
My first foray into yoga was in 2010, looking for ways to rehabilitate an injury and reboot my unbalanced lifestyle.  Yoga helped me learn how to breathe, discover t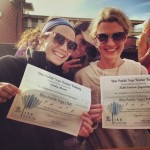 rust in alignment and find strength in balance.  That next summer, yoga brought me to the water – a place that I feared. Basically, I flunked about every swim lesson I ever took as a child and was terrified of doing more than a mean doggy paddle in the water.   Calling upon a newfound energy cultivated by yoga, I discovered calmness in practicing on SUP and learned to unlearn my fear of water.  Fast forward to now, I can't get enough of floating on water.
Certified by Core Power Yoga (RYT 200), I've completed completed my Paddle Yoga certification in San Diego, CA.  Over this last year, partnering with Christine Coleman, we've had the opportunity to bring SUP-Yoga Teacher Training, 'Wood & Water' to the Twin Cities YMCAs and certify more than 12 group instructors.
Currently I teach yoga on land at Yoga Forest, Wild River Fitness and City of Marine/Scandia, and of course, on water on the great St. Croix River. While, yoga is my breathe and my water is my spirit, in my day-to-day pursuit of happiness, I lead Ideation and Employee Engagement (including yoga!) in the Financial Industry and am a single mom to two boys ages 13 and 19.
---
Hey, I'm Ben Johnson and I'm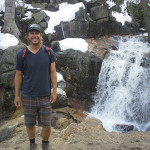 new to SUP-posing, but already I feel like I have reclaimed a part of me that I was missing. I'm new to yoga as well, and with practice I have felt a change in my body and a sharpening of my mind and begun to have an awareness of my how things affect moods and how my moods affect the things around me. After moving to Minnesota from San Diego so SUPing has given me a way to reconnect with the water and the outdoors that I thought I might lose when I left the ocean behind. Adding yoga poses to my board outings has given me an appreciation for the balance and power that I have when I'm on my board, and it has also given me pause to reflect on the loss of control that I feel when surfing waves. I have gone back to the ocean environment better prepared to meet the challenges of big wave surfing, and have even felt stronger and more comfortable in the ocean.
I participate in SUP-poser as a lifeguard to share my love and safety of the water with others, and spread awareness of board sports.