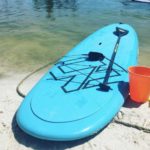 Re-reading this post from nearly 2 years ago to the date, brought water to my eyes!  What a wonder it has been to be able to take the passion of paddling across the world.  Since writing this post, I've more than doubled my paddle-cation experience.  I hope after reading my experiences, I hope your vacation ventures out onto the water.
---
….Renewed post from 5/10/2016; all information has been reviewed and updated as of 5/24/2018
I travel a bit for my job. And I travel more for my soul. The window to the world's wonder seems endless when you invite nature to be your travel partner. That just got a little easier. Hotels, resorts and even state parks are offering paddle board rentals! You just supply the energy, balance and zen.
After clocking 6,000 plus miles in March and into April, I decided to take note of some of the favorite paddle destinations (and a few that I just can't get out of my head – even if I didn't cover on this trip).
Arizona:  Lake Havasu, AZ
While I would much prefer to venture out to Havisuppi Falls, Lake Havasu is easy to paddle board around – that is if it isn't spring break! Typically you can just show up, right by the original 1830's London Bridge and there are 2-3 outfitters that will supply you with a board. We lucked out and it wasn't crowded. We paddled out along the channel and down to the beautifully carved out land for a nice 3 hour run. The channel can get crowded and some experience is required as you paddle around those big motor boats. Rental information can be found by various dealers. 
Difficulty = Moderate
California:  Morrow Bay, CA
Thanks to a friend, I was invited to paddle out from into Morrow Bay.  It was likely, the BEST ocean paddle I've done to date.  It was a sheltered bay area, surrounded by estuaries, Morrow Bay was quite likely the best place to find yourself out in the water with the porpoises or in the reeds listening to the birds.  Paddle boards are available right off the boardwalk in the bay area and at most resorts. Find out rental deals through Morro Bay Stand-up.
Difficulty = Moderate (NOTE Difficult to not even possible in wind)
California:  San Diego, CA
San Diego remains to be in my top places to paddle and yoga.  One can find a nice easy paddle just off the shores of Mission Bay and La Jolla.  My recommendation is to go early in the am to avoid the wind and people.  Bliss has a paddleboard operation at both locations.  Feeling daring and want to hang with the crowded surf?  No problem – try your luck off of Ocean Beach.  And that's what you will need.. a lot of luck.
Difficulty = Easy to Moderate (NOTE Difficult to not even possible in wind)
Costa Rica – Tamarindo
Firstly, let me tell you where NOT to go paddling–where the crocodiles live.  Lesson learned.  We saw a few cute little sharp tooth jaws sticking out of the estuary new Tamarindo beach before a guide steered us clear.  There are a few flat wave areas on the coast that are amazing to navagate, so long as the wind stays away.  Rainy season is best!  Dry is windy.
Difficulty = Difficult
Germany:  Berlin, Germany
What is more amazing than visiting the Spree River in Berlin?  Standing on it!  That's right, even in Berlin, you can jump on a board at the Standup Club and float down the river, or simply enjoy one of their yoga classes near the floating swimming pool.  I recommend this for everyone, just to experience this part of the world from a water vantage point.
Difficulty = Moderate (Easier in warm weather)
Hawaii:  Kihei, HI
Most resorts, including the one I stayed at – Mana Kai, offers paddle board rentals.  Unfortunately, I spent more time in the water than on the board simply because the winds were high during my time.  However, early in the morning is best to take your board out into some inlets, see some fish, watch some whales and ride along with some sea turtles.
Difficulty = Difficult
Mexico: Cozumel
Cozumel is paradise!  I visited in the December time-frame, over the holidays, and found it to be the perfect temperature and surroundings to have fun on the water.  There is very few SUP options that I found, but Ha Haak Paddling was conveniently located on the beach, on the one calm side of the island.  It was the most tempered ocean Sup Yoga I've experienced.  The rental company keeps close tabs on you while in the ocean, which was nice since I was alone (NOTE: you should always paddle with a buddy).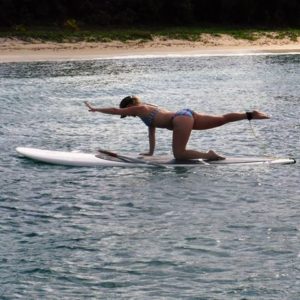 Difficulty = Moderate (NOTE Difficult to not even possible in wind)
Minnesota: Crosby, MN
Stay-paddlecation right in our backyard.  In September, we packed up our newly minted SUP board trailer and 'camped' at True North Base Camp.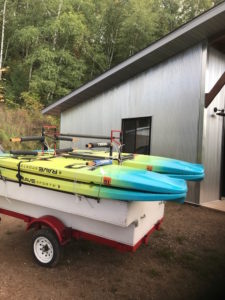 While we anticipated being able to paddle from one lake to another without portage, the lake at the base camp was a pleasant little lake to take on your strongest meditation game and poses.  I understand that Paddle North now rents out paddleboards at the location.  So no fear – paddleboards are near!
Difficulty = Easy
Stillwater, MN
While there are no public boat /shore access in Stillwater – Boomsite landing is an option to traverse the St. Croix Riverway closest to Stillwater. The closer you paddle to downtown Stillwater, the choppier the water.  Lots of boats like to showboat and that isn't always fun for a paddler. BUT, staying close to the landing and traversing north, you will find a beautiful way full of nature.     St. Croix Stand Up Paddleboard Company has a fleet of paddleboard which they will deliver to either site for a great price and insights on waterway navigation.
Difficulty = Moderate (NOTE Difficult with boaters)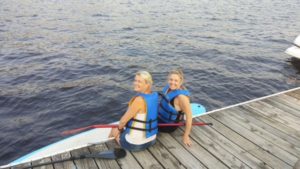 Nevada:  The Westin at Lake Las Vegas, Nevada
Completely off the strip, this resort offers direct lake access from their sandy (man made of course) beach bay. You feel like you are in Italy as you paddle in the little bay and then under a tuscan bridge to the lake. Paddle boards are available daily to rent – and they are not those hard fiberglass ones. They have 11 ft. boards that allow you to do yoga quite easily. Call Lake Las Vegas Water Sports for more information and to make reservations: (702) 600-9860

Difficulty = Easy
Wisconsin: Apostle Islands
Paddling around the Apostle Islands can last a week!  It offers miles beautiful beaches and caves to navigate, that it is worth getting a board for a few days.  In fact, this area has been ranked the top 10 paddle areas in the US for years.  There is a reason why.  Apostle Island Rentals will deliver a board to your camp or where-ever you are lodging.
Difficulty = Easy to Difficult
Mind you, this is the short list of far away places.  Don't overlook your local parks and state parks.  Nearly all of them have paddleboards to rent in the summer seasons.  Get out there!