Spring into summer, warm weather is finally here.  The peepers are out, dandelions are popping and the lawn can wait to be mowed until after the first paddleboard sessions are over!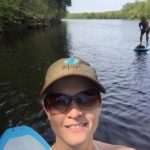 Movie down the St. Croix
First thing is first – get the car relay situated.  One car at the end point and the other with the paddleboards at launch.
Launching from the Log House Landing, just outside of Scandia, MN we started our paddle down the St. Croix.  Although the wind was fierce (15 mile gusts) in some spots, we were not going to let that stop us.  The weather was ripe and there wasn't a boat in site.  For a little over two hours we made our way slowly down the river, traversing into some flooded treed areas.  Typically the sides of the river are peppered with sandy beaches but not this time of year with spring's high current.
But this trip, we even had to portage across a few downed logs.  Felt like a bit of modern day Huck Finn (and not a Band of Robbers ).  Oh there is really nothing like getting out and letting the flow of the water take you down stream, while the wind is fighting to parasail you back.  The balance you strike is in the strength of your paddle strokes, shield of the trees and the breathe to keep you going.  Exhilarating.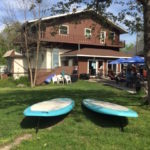 After about 5 miles, we docked right by the Mill Stream in Marine. Normally on a hot summer day, that is the siting of many an ice cream cone from 'The Scoop'.  A little too early in the season for that. We hiked our paddleboards up the hill and had to settle for a nice cold Farm Girl from The Brookside before our car relay return.  Life is good.