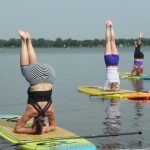 One paddle board and one paddle.  Just add water.  Paddle to the rhythm of your heart beat.  Mix it up with some flow yoga,  adding a dash of salamba sirasana .
Yoga has been around for over 5,000 years, Stand-up Paddleboarding floated centuries ago but SUP Yoga is still very much in the making  The Future is here.  The creation of SUP Yoga is still underway in most places.   And most definitely, it is evolving here in Minnesota.
Any given day (ah-hem between July – October) on the lake or river here in MN end in queries like this:
"OMG, I love this – I want to buy a board, which one is the best?" – starry eyed student
"When is your next class?" –paddler with a smile

Balancing on the new cross-fit board – this one without a stringer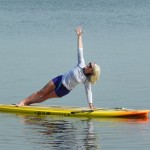 Keeping in mind that we are in the last throws of the lows being above freezing point and paddling will be limited over the next few months, I wish to offer a simple reply.. 'the board that is right for YOU, keep practicing yoga on and off the water'.
Meanwhile… stay tuned for SUP yoga updates from the non-frozen parts of the world and the exciting new release Rave Cross-fit board I've had the opportunity to be a part of (releasing Spring 2016).