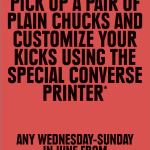 After milling about in New York this week on some biz travel, I stumbled across this awesome opportunity to customize a pair of Converse All-Stars with SUP-Poser at Urban Outfitters.  It did take some time, but such is the way it works with a craft of love and material desire.
All I needed to do was bring in the logo, 14X16 inches jpg to Tyra, the wonderful marketing rep turned Converse Shoe Artist for that weekend helped bring my creation to life.
Take a look at the printer process below, but it seems to me, it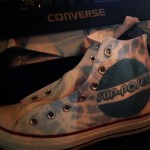 was a matter of one crafty laptop hooked to a 4-color screen printer and a lot of duct tape.
And of course the right size shoes.  What an awesome souvenir.  Oh, and did I mention – $50.  That's it.