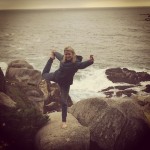 I've been to San Francisco nearly monthly for my job and to other destinations in California a number of times, but I've never piled into a car southbound from San Francisco to white knuckle
some curvy cliff roads to see some of the most breathtaking views and experience the point where chaos meets calm. The Big Sur!  After a week of work in SF, I piled into my dear friend Katie's car with my dear Ben on a Cali Highway #1 adventure.
We drove down the #1 along the coast, past Carmel and onto Morro Bay in search of the perfect destination Sup Yoga retreat spots . Coincidentally (or maybe not so much) Katie, Ben and I are all from North Dakota. No Coast. Flat lands. Now, all of a sudden, we found ourselves dancing on the Santa Lucia Mountains and teasing the crashing waves of the unruly Pacific.  What. A. View.
We kept going. Noting options for hiking and camping. Even searching for Jade. While the meditative options are aplenty, the untamed waters would offer some pretty tricky board situations.
It took us nearly 4 hours to meander just 125 miles down the central cost. We made it into the sleepy little village of Cayucos where we met Randy from MN Stand-up Paddle and Sail and some local surfer friends for dinner at Taco Temple. Our bellies were filled with fish tacos and thirsts were quenched by fresh Firestone DBA with lots of ha. We walked it all off with a moonlit stroll on the beaches hugging Morro Rock.  Time to rest up.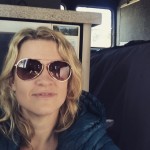 Our goal was to set out the next day to surf, SUP, Yoga SUP and find the perfect retreat options for unruly Midwestern weather farers such as ourselves.
Bright and early the next day, Randy was able to connect us with Steve from Good Clean Fun in Cayucos.
We geared up with paddle boards and headed back to Los Osos for launch.
Paradise found! Randy had been promising me that this looked the closest thing to Hawaii while still being on mainland USA. Do I dare admit he was absolutely correct?  Sure, ya betchya.
A back bay nestled among the giant eucalyptus trees waited for us. And I mean just us. There was a small cafe, with more dogs then locals. Not a human on that glossy water. The wind and sun was in our favor too, but not to risk it, we wore our wet suits. I've learned taunting a north wind in January is a real threat.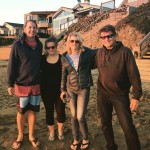 We paddled through Los Osos back bay and around to the Morro Bay Estuary – where the river freshwater meets the salt water, down around the estuary and back into Morro Bay. Coming around the outlet, back from the estuary and into Morro Bay was probably our most trying portion of this approximate 6-mile paddle. The wind turned and we had to work for it. But once into Morro Bay, we paddled right through the harbor with sea lions greeting us along the way.  The wind died down and when we looked back, there were two porpoises swimming directly behind us. Beautiful!  We Ended the afternoon with more fish tacos and live music on the pier at Tognazzini's.  Not ready for the day to end, we girls headed back out to the water for some SUP yoga while the boys hunted down some waves. Well if that sunset wasn't threatening to be the most beautiful yet of 2015 (and we had to get our boards back), we may still be out there.
Stay tuned for a fun little retreat cooking up!  I think we found THE spot.